Park and Go
Striving to bring you the highest possible quality at reasonable prices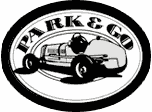 Park and Go were established in 1995 in York. Featuring Meet and Greet services, on-airport and off-site car parks - the company have established themselves as a reliable, efficient provider of airport parking services. Throw in security, value for money and great service and you have an all round great choice.
Park and Go owned car park
This off-airport parking service for Exeter Airport from Main Yard Park and Go makes a great alternative to more expensive on-airport parking. Offering great security and on-request transfers, Main Yard Park and Go is a real value-for-money option.