Award for Customer Satisfaction and Product Excellent
As we like to tell everyone, we're not just another comparison site. We aim to give our customers a service with a little more depth - thinking outside the box, if you like. We provide the extra details that make all the difference.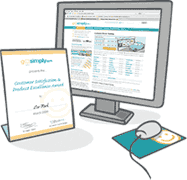 From the people in the know - you!
Whilst we certainly know our industry, we think the people best placed to give an honest, unbiased opinion on the products we offer are those folk who actually use the service every day - that's you, the customer. With this in mind, we introduced the gosimply rating back in 2008 - based on 1000s of real reviews from our customers.
gosimply award for airport parking
For each airport car park - you'll find a number of rating bars based on customer reviews, the number of recent bookings made, security facilities, transfers to and from the airport, and value for money. That's certainly a lot to get your head around, but to help you out, we've gone to the trouble of combining the figures to produce an overall gosimply rating for each location - simple!
Ratings are updated each month, ensuring our customers receive the most up-to-date information available. As an added bonus - the highest ranking car park at each airport receives a nice, shiny gosimply Award for Customer Satisfaction.
It's good to talk
We are currently rating the airport hotels and airport lounges on offer and eventually we hope to roll this out to all the products and services. We've had a tremendous response so far to the airport parking awards, so we hope you take some time to let us know what you think - it's good to talk, and we like the warm fuzzy feeling we get when people say nice things.
---
The gosimply.com award - just another little thing we do to help smart people like you, because smart people gosimply.