Airport Wars and More – Top Airport News
Written by Kate Goldstone
As reported in The Telegraph , the bosses at Sussex's Gatwick airport are furious. They've slammed the UK's Airport Commission recommendation for expanding Heathrow, claiming their recommendation was based on an analyses that don't bear close examination. And they're not afraid to get vocal about it.
Along with a bunch of anti-Heathrow expansion climate change protesters being arrested this week, it's a shot across the bow for the government and a hint that the final solution might be as far away as ever. Here's a run-down of Gatwick airport's unusually feisty response, plus – not to be overshadowed – a short, sharp blast of airport news from elsewhere.
A scathing attack over outdated air traffic forecasts
Gatwick's chairman has launched a scathing attack on the Airports Commission, saying their recommendation for a third Heathrow runway is 'flawed', based on old air traffic forecasts and dodgy economic estimates.
The 'old data' side of the argument isn't surprising since the Commission took so long to make their report. But there's more, with Sir Roy McNulty saying they also underplayed the strength of Gatwick's case for expansion. He also believes they underestimated the problems facing radical changes at Heathrow. He has already spoken to the government but he's so angry he's promised to write to David Cameron to relay his concerns formally.
Would Gatwick expansion have fewer economic benefits?
The Commission's 342 page report concluded that a £17.6bn extra runway at Heathrow was the "best answer" to a looming aviation capacity crisis, despite contrary evidence that there's no such crisis on the horizon. They claimed a second runway at Gatwick was feasible, but would come with considerably fewer economic benefits, odd since in a separate economic analysis from the Commission, Treasury-led models revealed only 'modest' differences between the economic benefits behind Heathrow and Gatwick expansion.
Gatwick set to cross the 40M passenger mark first
Apparently the Heathrow decision was based on a critical assumption: that Gatwick would be dealing with at least forty million passengers a year by 2024. It sounds impressive, but Gatwick is set to achieve 40m passengers this financial year.
Worse still, Gatwick had 'repeatedly' raised concerns about the forecasts but their worries were dismissed, "with a fairly superficial analysis", according to Sir Roy. He's bullish, insisting they're absolutely certain the decision "does not make sense".
Hurt feelings all round
Sir Roy also feels the report undervalues the feelings of people living around Heathrow, with more local residents due to suffer from noise, pollution, disruption, virus-like increases in airport parking sites and more. His opinion won't go down well with people in the Gatwick area, who face exactly the same challenges to their homes and lifestyles. And he's zoomed in on pollution levels, saying the Commission didn't take the fact that Heathrow currently breaches European Union limits on air pollution into account.
An extra runway at Heathrow has already been proposed and stopped in its tracks in the past. Sir Roy believes the same thing will happen again, putting progress back another two, five, ten years… who knows? And this is his final argument. In his words, "As Einstein famously said, the definition of insanity is to do the same thing over and over again and expect different results."
Then there's the Queen whose lovely home, Windsor Castle, would suffer increased noise from a third runway. It looks like the Royals could qualify for millions of pounds in payouts to soundproof the 900 year old building. Is there no end to the complexities behind an extra runway, wherever it ends up?
The Airports Commission fights back
The Airports Commission has retaliated, insisting that the lengthy three year reporting period they went through has looked at all the issues, including extensive consultation and analysis and delivering robust recommendations based on the best available evidence.
Despite their anger and disappointment Gatwick has fallen short of starting a judicial review. But the news marks the beginning of what could be a very long haul for everyone included: the airports, local people, the government and the flying public.
The Government has promised to decide whether to support the Commission's recommendations or not by the end of this year, leaving things hanging to Gatwick's benefit. They're unlikely to make a firm decision, expected to make more of a 'clear direction'. All we can do is watch and wait.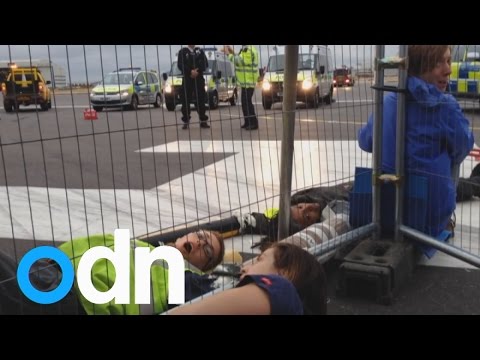 More airport news for July 2015
British Airways has announced its first Boeing 787-9 Dreamliner plane will take a debut flight to Delhi this October
A BA flight made emergency landing at Heathrow when its engine burst into flames
Heathrow hopes to soften the expansion blow by building a 9,000 home 'garden city'
Munich airport gets clearance for a third runwa, while the country's powerful environmentalists fight on
Research reveals how increasing long haul flight times are down to high altitude winds slowing planes down, and it'll have 'significant implications'for airline industry's CO2 emissions
Expansion plans have been unveiled for Leeds Bradford Airport to let it double the number of passengers it handles over the next 15 years
Heathrow is already showing resistance to environmental measures proposed for a 4th runway, saying it still needs to "assess" proposals for a night flying ban
Hundreds of flights were delayed at Heathrow as Plane Stupid protesters against the new runway plans broke in and chained themselves together
Ryanair says it might shut its Billund airport base, the airline's second Danish base closure in just four days because of union strike plans. They already closed their new base at Copenhagen to avoid strikes
Armelle Thomas, the wife of a 93 year old war veteran, is livid after a letter from Heathrow arrived at her home 90 minutes after the AirportCommission's recommendation. It was a reminder letter about the compulsory purchase order made on her home
On 2nd Julke a protester whose Harmondsworth home would be destroyed by a third runway blocked Heathrow tunnel for half an hour
We'll be back next week with the latest news about airport parking, airport expansion, developments in the aircraft industry and the ever-changing world of aviation.