Learn About the Airport Lounges at Johannesburg Airport
Written by Kate Goldstone
It's a long, long way away. If you live in Britain, flights to and from South Africa take a while. The last thing you need is to get on your 'plane home all frazzled and cross, stressed and weary, grubby, thirsty and peckish. Whether you're travelling international or domestic, you need a comfortable, smart, relaxed airport lounge. We thought it'd be useful to take a detailed look at the airport lounges at Johannesburg airport and repot back to our readers. Here's a link to our airport lounges page for Tambo airport.
Scroll down and you'll also find some essential tips for staying safe in the city, and a handy list of the best sights and attractions in the area. Happy travelling!
Johannesburg Tambo airport lounges – Time to relax
Enjoy the VIP lifestyle for an affordable price at a spotless Bidair Premier Lounge at Johannesburg Airport. Prices are fully inclusive and you get to chill out in a peaceful haven away from all the usual concourse chaos: crowds, luggage, queues, noise, smells…
International departures – The Bidvest Premier Lounge – Terminal A
Head for the international terminal and you'll find the Bidvest Premier Lounge, an oasis of calm. The cost? From £20 per adult for a comfortable guaranteed space.
How to find the lounge
Turn right after Security and head for  Duty Free. Grab the escalator at the end of Duty Free where you'll see the Out of Africa retail outlet. Go up to the mezzanine floor and you'll find the lounge in the right hand corner. This lounge is also accessible to international passengers departing from the domestic terminal, B.
Here's what you get, all in with the price:
Facilities open Monday to Friday 5am to 9pm, weekends 6am to 9pm
Snacks and drinks, including alcohol (served 24/7)
Air conditioning, wonderfully refreshing in such a furnace-like heat
Lovely clean showers to freshen you up and give you a useful second wind
TV to flop in front of
Flight monitors, so you don't have to keep coming and going to check your flight times and so on
Disabled access
WiFi
Telephones
Domestic departures – Bidvest Sky Lounge – Terminal B
If you're in Africa to travel, there's a domestic passengers' lounge to enjoy. Head for the domestic terminal and you'll discover Bidvest's Sky Lounge, where it costs from £20 for all-inclusive comfort. You'll find it by turning right after Security, taking the lift to the 4th Floor and heading left. Remember, this lounge is only for domestic travellers.
Open 24/7
Snacks and drinks (alcohol served from 10am)
Air conditioning
TV
Flight monitors
Disabled access
WiFi
Telephones
Are there any conditions?
There's a maximum stay of 2 hours. The facilities are only for people with flight tickets. And there's absolutely no smoking
Things to do in and around Johannesburg Tambo airport
What if you turn up ridiculously early for your flight? An airport is rarely the most pleasant place to while away time with the nasty fluorescent lighting, stale air, uncomfortable seating and surging crowds. So what is there to entertain you at the airport itself, and what about the immediate vicinity? Is it the usual situation, where the airport is sited within miles and miles of inaccessible runways and roads, or is it possible to escape and explore?
The airport itself has all the facilities you'd expect but, like most airports, not much to entertain you beyond eating, drinking and shopping. And while you can take a brisk walk around the concourse there's nowhere to go outside. Never mind! You can buy books and magazines and access the internet via your mobile, tablet or laptop via the airport's WiFi and internet access points. Other than that, the airport lounges are your best bet for comfort and  entertainment.
How to stay safe in Johannesburg
Johannesburg has become notorious in recent years for violence, theft, assault and all sorts of other nasties, mainly because the gap between the city's rich and poor is so wide and still widening.  On the other hand, like all cities, there are safe parts and areas you'd be wise to avoid. Here's what the airport website recommends for visitor safety, much of which is simple common sense.
Stay alert. Keep tight hold of your belongings, just like you would anywhere you're not familiar with
Check where's safe and where isn't by asking at your hotel or the airport information desk
Try not to overtly display wealth, hiding your mobile phone and leaving your wallet at the hotel
Only take what you need when you go out – and use a plastic bag for carrying your stuff, less conspicuous than a smart bag or posh backpack
If you get robbed, don't fight back. Your holiday insurance will cover it
Never try to negotiate – just hand over your valuables
Most of the city's business and shopping areas have CCTV or Security staff, so there's less risk of being pickpocketed in such areas
When you go out after dark, take well-lit paths. Carry a map and sort out your route beforehand so you don't get lost
Aimless wandering isn't recommended. Look purposeful!
Some areas should be avoided full stop, unless you have a guide or are in a big group. Steer clear of Hillbrow, Alexandra, Yeoville and Berea, all areas that even the locals avoid
Because Alexandra is next to the road to the airport, it's particularly important to take care. Use GPS or a map, and avoid going off-route
While driving in the city is reasonably safe, there are still regular car-jackings. Keep the car doors and windows closed and locked at all times and don't wander off your planned route into the unknown
If you park in a quiet or secluded area, take care getting in and out and keep an eye open for thieves
Avoid public transport in the city. It just isn't safe
The 16 best attractions in Johannesburg
Bearing all that in mind, what are the best tourist attractions in the city? Here's a quick list:
 The Apartheid Museum
Guided tours of Soweto
Soccer City, the continent's biggest stadium
The Nelson Mandela Bridge
Newtown Cultural Precinct, where you'll find the city's museums and art galleries
Zoo Lake, a lovely cool park with lots of shady oak and sycamore trees
A trip to the magnificent Game Reserves
The shopping malls at Sandton
The Rosebank daily African craft market
Fordsburg market, an amazing place to buy Indian antiques, fabrics and retro stuff
Melville, for excellent nightlife
The Civic Theatre
The Top of Africa, in the Carlton Centre, one of the nation's tallest buildings with breath-taking views
The Walter Sisulu Botanical Gardens in Roodeport
Visit one of the famous Witwatersrand gold mines, just 20n minutes' drive from the airport
Lion Park game park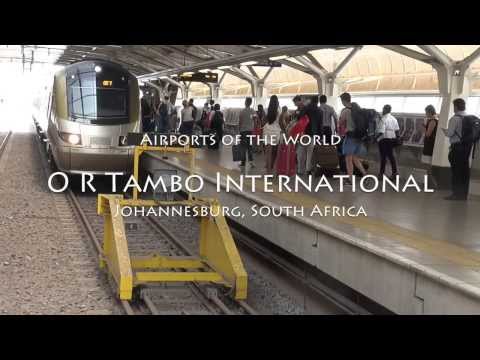 What's your recommendation?
If you've spent time in Johannesburg airport, what do you recommend for making your journey as painless and enjoyable as possible? You can leave a review of the airport lounges at Johannesburg if you like, to help our readers make the right decision.
Tags:
airport lounge at Johannesburg
,
airport lounges at Joannesburg airport
,
Johannesburg Tambo airport lounges