Which Countries are Safe for LGBT Travel?
Written by Kate Goldstone
Morocco is usually a pretty tolerant country. But all the same, a 70 year old British gay man was arrested and jailed there… although not for long. Ray Cole, who came out a few years ago, was sentenced to four months, sleeping on a concrete floor in a Moroccan jail and sharing space with murderers and rapists. In his words, the prison he spent time in was no better than a concentration camp. But what had he done to cause such offence?
Nothing, as it turns out. Just 'homosexual images' found on his password-protected mobile phone. Thankfully Mr Cole was freed early after a Marrakesh legal team, employed by his family, lodged an appeal.
The family and Mr Cole are very grateful to the Moroccoan authorities and the thousands of people who lent their support, from all over the world. But the message the incident sends is a sinister one all the same: if you visit Morocco, you risk facing serious charges for so-called 'crimes' that most people in this country feel aren't crimes at all. It means Morocco's safety is under question for gay travellers.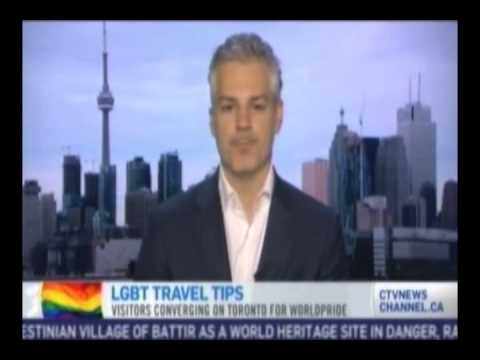 In response we thought it'd be useful to take a look at the safest places to travel if you're a member of Britain's respected LGBT community, and the nations it's safest to avoid. It's a post we'd much rather not have to write. But that's the way the world is right now. Let's hope we don't see any more incidents like this, and that things improve right across the world. Until then, sadly, if you're gay you need to take a bit more care when abroad than straight people.
If you've had any relevant LGBT travel experiences, we'd love to share them with our readers. In the meantime, here are some guidelines about where's safe and where isn't. Bear in mind that things can change fast, and visit the excellent Wikitravel page on the subject before you go, to make extra certain you've got the story straight for your destination.
LGBT-friendly travel destinations
Canada
Mexico
USA, especially especially in the larger cities, the north east and west coast
Costa Rica
Argentina
Brazil
Chile
Uruguay
Israel
Lebanon
Turkey
Australia
New Zealand
Cambodia
Europe's attitude to LGBTs
As a general rule, Europe gets less safe for the LGBT community the further east you go. Homosexuality is not illegal in eastern and south east Europe but in some places you risk harsh discrimination from those in power as well as the locals. Take Russia which, in 2013, brought in a series of laws designed to make "promotion of a homosexual lifestyle" illegal. This means being open about your sexuality really isn't worth the risk, as anyone who has spent time in a Russian jail will tell you.
Actively gay-friendly nations
Some of the most tolerant nations are actively gay-friendly. They include Nepal, the first country in the region to decriminalise homosexuality completely and legalise same-sex marriage.  The Philippines are also famously tolerant, as are Thailand, Vietnam, Taiwan and South Korea.
What about being out in Africa?
While the majority of African countries are dangerously anti-gay, South Africa has actually built civil rights for gays into its constitution. So much so that Cape Town is Africa's most vibrant and exciting gay friendly  city. At the opposite side of the spectrum, many African nations threaten openly gay people with imprisonment and even the death penalty, although thankfully it's rare for tourists and travellers to fall foul of the draconian legal systems in such places.
There's plenty of excellent advice and information here on the About Africa Travel website, where there's a useful video and a detailed video transcript to explore. As the site says:
"As varied as this vast continent's landscape is its struggle for human rights as it has moved from a colonial past towards independence. Africa is perpetually in the news regarding civil and human rights. It is a hot bed of democratic experimentation."
Let's hope their experimentation takes them in the right direction, since the continent is one of the planet's most fascinating, thrilling, unvisited, unexploited and unspoiled travel destinations.
Countries with the death penalty for homosexuality
Here's a list of the countries it's best to avoid if you don't want to have to hide your sexuality.  They all have a death penalty in place for homosexual 'offences' and while they don't all actually use the laws and it's unlikely to come to that, it's a risk most people would rather not take.
In Africa, Tanzania, Uganda and Senegal are amongst the worst offenders, all places where prejudice is rife in official circles and equally bad amongst the general population.
Algeria
Mauritania
Somalia
South Sudan
Nigeria
Afghanistan
Bangladesh
Brunei
Malaysia
Myanmar
The Maldives
Saudi Arabia
UAE
Yemen
Surprising attitudes to gays in Jamaica
You might think the popular, thoroughly Westernised tourist hotspot of Jamaica would be safe. It's so laid back, the home of reggae, somewhere thousands of Brits go on holiday every year as well as being a place where almost everyone and his dog has smoked ganja at one point or another. But it just goes to show how careful you have to be. Jamaica is actually rife with violence and discrimination against the LGBT community, and the authorities are at best apathetic about protecting gay people.
As Wikipedia says:
"Jamaica has been described by some human rights groups as the most homophobic place on earth because of the high level of violent crime directed at LGBT people."
Other countries simply have an embedded attitude. Take the Cayman islands, a British Overseas Territory that you might expect to be as tolerant as we are in the UK. But it isn't – despite there being no laws against homosexuality on the islands, homophobia is culturally endemic.
Is it always the same for homosexuals and lesbians?
This is where things get even more complicated. In some countries lesbianism isn't affected by either the law or local prejudices, in others everyone who is gay is lumped into the same classification.  It's wise to find out the exact situation, and the Wikitravel link we provided earlier in this post is a great reference point for discovering the subtleties behind each nation's prejudices.
Advice about staying safe abroad if you're gay
There's only one down-side to Britain's famous tolerance: it's very easy to get used to. Over here it's usually perfectly OK for gay people to make public displays of affection. But in some countries it's very dangerous indeed, even potentially lethal. As a general rule, unless you've researched the situation carefully and can be certain it's safe, it's best not to display your feelings publicly. Sad but true.
Way back in summer 2002 Britain's Foreign Office released advice for gay people about staying safe abroad, including some 'top tips'. It's a long time ago and things have changed considerably since then, sometimes for the better and sometimes worse. But they still form a common sense framework. Here they are.
Read the FCO's Travel Advice
Find out about your destination
Buy sexual health products before you set off
Check your hotel takes same-sex couples
Some resorts may only accept homosexuality in certain areas
Avoid potentially risky situations: stay alert
Don't leave belongings unattended or carry lots of cash
If you get into trouble, contact your tour operator, local police or the nearest British consulate
Consular staff will handle problems "discreetly and courteously"
There's also plenty more country-specific information about your rights as a gay person here, on Wikipedia.
What about your tips and experiences?
If you have anything useful to share, we'd love to know about it. Please leave a comment and help us help others in the gay community stay safe abroad.
Tags:
gay travel
,
LGBT travel
,
safe travel for gays