How to Travel With Christmas Gifts
Written by Kate Goldstone
It's that time of year again, when millions of us take to the roads, rails and skies laden with Christmas goodies and family gifts.
Whether you're travelling internally within Britain or adventuring farther afield for the festive season, how do you handle air travel with Christmas gifts without causing mayhem and chaos, and without falling foul of airport security regulations?  Can you take Christmas crackers on board a plane? Are there any restrictions that apply specifically to seasonal travel?
Here's some sensible advice about travelling from A to B at one of the busiest times of the year, especially when you're carrying Christmas with you!
10 tips for faff-free festive air travel
One of the nicest things about travelling by air over Christmas is that everyone's in such a great holiday mood, especially friendly and helpful. You want to keep it that way. Here's how to get where you're going safely, quickly and efficiently, even when you're laden down with Christmas gifts.
Wrap it up… and wrap it good
There's nothing worse than struggling around an airport concourse with gift wrapping flapping around you, falling off in colourful chunks, being torn to shreds. If you're carrying gifts with you, wrap them as solidly, ruggedly and carefully as you can to avoid mishaps en route.
Bubble wrap is brilliant stuff for transporting gifts safely and avoiding damage. Just wrap the gift in it first then add your wrapping paper on top. And cheap sellotape is often a really bad idea. It can peel off if it gets too hot, too cold or if there's a sudden temperature change. Buy good quality wrapping materials and you'll be more likely to arrive at your destination with your gifts in one piece.
Do you have to stash Christmas gifts in the aircraft's hold?
No, they qualify as ordinary hand-luggage. But the same rules apply about weight. If you go over your allowance you'll still have to pay extra. Every airline has their own restrictions, so check on their website and weigh your baggage carefully first.
What about electronic gifts?
Whether they're gifts or your own possessions, it's really important to make sure electronic items in your hand baggage are in unsealed packaging. They must also be fully operational, especially when you're en route to the USA where they're especially concerned about potential terrorist threats. If you're buying gadgets as gifts, you'll need to wrap them nicely at the other end.
Taking liquids on a plane
There are still restrictions in place about the amount of liquids you can take on board, and they apply to Christmas gifts as well as your own possessions. Just bear in mind that  some of the rules vary by country and airline. Check first before you travel, especially if you'll be changing airlines during the journey.
What does 'liquid' mean in this context? It includes medicines, gels, creams, pastes and liquid foods like soup and jam. If you've hand-made some delicious preserves as gifts, or even packed jars of honey from your bees, you'll need to take the rules into account.  As the British Airways website advises:
"Liquids must be in containers of no more than 100ml each and all liquids must be carried together in a single, transparent, re-sealable plastic bag of up to 20cm x 20cm (8in x 8in) which holds no more than one litre total. Items must fit comfortably inside the bag, so the bag can be completely closed, and must fit in your hand baggage."
Can you take Christmas crackers on board a plane in the UK?
Yes, you can… although there are some restrictions. They can't go in your hand luggage but have to be stashed in the hold. There's a maximum allowance of two boxes of crackers per person. They must be bought crackers, not made by hand. They must be for personal use, and they must stay in the original packaging. Just remember you can't carry any crackers on US airlines – if you're travelling state-side, leave them at home.
What about party poppers?
The answer is no. They're not allowed on any British plane, either in your luggage or hand luggage. The same goes for sparklers and other fireworks, whether designed for use indoors or outdoors, presumably because they're far too much like an explosive for comfort.
Taking sports equipment gifts on board a flight
What about sports stuff, a popular gift? Most sports stuff goes in your hand luggage just fine, as long as it isn't too big or heavy. But it's vital to make sure it's packed properly or the airline may refuse to take it. 'Properly' in this context means taking care so it won't get damaged. Now and again sports equipment can be restricted for safety and security reasons. Again, check with your airline first so you know the score (pun intended!).
Can I take a musical instrument on a plane?
Musical instruments can be taken on board many airlines as part of your hand luggage, but it's always best to check with your airline first. Obviously very large instruments will break the hand baggage maximum dimension rules and you'll have to pay extra.
If you're very lucky indeed, bearing in mind Xmas is a horribly busy time for airlines, you might be able to snag an extra seat for your trombone or whatever.  On the other hand most airlines won't accept a double bass in the cabin under any circumstances, they're simply too big!  In the unlikely event you'll be travelling with a double bass, you'll need to check it in, put it in the hold and hope for the best.
Taking a bicycle on an aircraft
Some airlines take non-motorised cycles as long as 75 inches, 190cm in new money. But you have to pack them in a special cycle bag, not just pack them up any old how or wrap them in gift wrap. You usually need to take the pedals off or make sure they're facing inwards some other way. The handlebars need to go sideways to keep the package as slim and unobtrusive as possible. And you should always let the tyres down so they don't get damaged.
Can ski-related gifts be taken into the cabin as hand luggage?
If you're taking a bunch of ski-related gifts on a plane, the same kind of advice tends to apply: pack skis and snowboards in a proper bag made for the purpose. Pack ski poles with skis. And pack ski boots separately. You can usually take ski boots into the cabin as long as they don't break the hand luggage size and weight restrictions.
The British Airways website includes plenty of really useful information about what you can carry with you and what the restrictions are. There's also an excellent table of items, each with the relevant restrictions. And it's an extensive list. If you're planning to take any of these things aboard a plane, as a gift or for any other reason, it's well worth checking:
Scissors
Knitting needles and crochet hooks
Umbrellas and walking sticks
Gas powered hair curlers and straighteners
Cigarette lighters, safety matches and e-cigarettes
Disposable razors and cartridge razors
Electric shavers
Batteries for devices like cameras, laptops and smartphones
Just scroll down this page to find the table.
And finally… what about Duty Free?
Once you're through the security checks at the airport, you're free to buy the stuff you couldn't bring through security with you, for example bottles of water or wine bigger than 100ml. All you need is enough wriggle room in your hand luggage allowance.
Having said that, it's important to remember the new EU regulations about the way duty free liquids, prescribed medicines and liquid baby foods are screened at security. Liquids bought at the airport can now be taken through UK security screening points as long as they're packed in a tamper-proof evidence bag along with the receipt. On the other hand you might decide it really isn't worth the hassle and it makes more sense to buy what you need at the other end instead!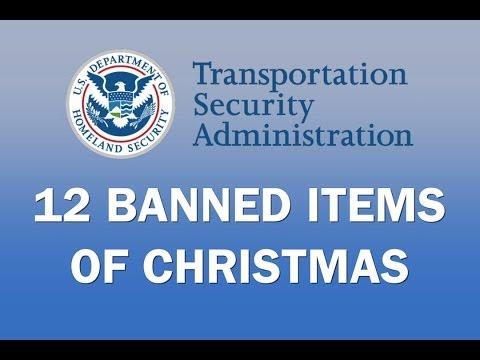 What's your best tip for travelling by air with Xmas gifts?
We'd love to hear your ideas. Or perhaps you have a story to tell? If so, feel free to leave a comment.
Tags:
air travel at Christmas
,
christmas gifts
,
Christmas gifts air travel