About Stansted Airport: Parking, Hotels & More
Written by Kate Goldstone
Stansted Airport lies near Stansted Mountfitchet in Uttlesford, Essex, just 30 miles north east of central London.
Open 24/7/365, Stansted is one of London's big five. It offers more than 150 destinations in 30 countries across the world, some of the most popular of which include the international destinations Malaga, Rome, Athens, Bordeaux, Lisbon, Rabat, Barcelona, Dortmund, Prague, Alicante, Fez and Dubrovnik.
It handles domestic flights too, some of the most popular of which include Edinburgh, Dublin, Derry, Guernsey, Jersey, Glasgow and Belfast. At the British end it provides excellent access to the fertile heart of the London-Cambridge corridor, vital for business.
Your Guide to Stansted Airport
What awaits you at the airport? And what facilities do they provide? Here's a run-down about Stansted airport facilities, hotels, plans, history and more.
Car parking at Stansted airport
It's just a short bus ride from the airport's car parks to the terminal and the short stay facility is only a short walk from check-in.
Long stay – 10 minutes' transfer time, perfect for trips of a week or more
Medium stay – 5 minutes transfer time, ideal for short breaks
Short stay – 1-2 minutes' walk to the terminal, no bus required
Meet and greet – Fast and easy, 2-3 minutes' transfer time, just drop your car next to the terminal
Valet parking – 1 minute transfer time, leave your car at the forecourt, plus fast-track security for as many as six of you
Remember to take full advantage of our Stansted airport parking comparison tool to find the right service and deal for you.
Airport facilities
There's everything you'd expect from a major hub on tap at Stansted, including cashpoint machines and currency exchange facilities, car rental, a post office, baby changing areas, trolley and porter services. There's even a place to pray.
There are 125 check-in desks, more than 25,000 airport car park spaces, 110 aircraft parking stands and it's a mere 47 minutes to central London by rail, with a train leaving every quarter of an hour. In fact the public transport links are so good 50% of passengers take advantage of them instead of driving. There's a good choice of buses, trains and taxis and the airport has its own rail station, directly below the terminal and staffed every day except Christmas Day.
Some brave souls even cycle to and from the airport. There's a special free bike shelter in the Red Zone of the short stay car park and another next to the terminal, just behind the coach station.
When you're on business and time is at a premium, you can take advantage of a meeting room at the airport itself or a nearby hotel.
Radisson Blu Hotel – a 2 minute walk from the terminal, with 26 meeting and event rooms for as many as 400 people plus a fully equipped business centre
Hilton Hotel – in the airport itself with 16 meeting rooms, catering for anything from two to 250 people, plus a fully equipped business centre
United Business Centre – a short drive from the terminal with a courtesy car transfer if you need one, convenient for Junction 8a of the M11. It offers meeting rooms for 2-30 people, broadband, phones, fax and full secretarial support
If you want to freshen up before departure there are smart, clean showers in the departure lounge – after security – and more in the international arrivals area.  There are plenty of cafes, restaurants and bars. And you can tap into Wi-Fi everywhere in the terminal, free for an hour a day for every registered device.
What about shops? At the time of writing this post there are these shops to explore within the airport:
Dixons Travel
FatFace
Boots
Hamleys
JD Sports
WH Smith
A Duty Free outlet
Glorious Britain
Rituals
Spar
Spectrum Interactive
The Body Shop
Hotels at Stansted Airport
Most of the hotels at the airport offer car parking as an optional extra, as you'd expect. You can stay in a comfy, spotless hotel just minutes away from the terminal, arriving fresh at your destination rather than worn out and ragged at the edges! You can book your Stansted hotel room at a great price right here with us.
The airport lounge at Stansted Airport
If peace, quiet and comfort is a must on your journey, there's a smart airport lounge to enjoy, the No.1 Lounge at Gate 49, after security control, a 15 minute walk from the domestic gates, with easy access to gates 40-49.
You get free drinks, snacks, newspapers and magazines in with the price and it's a great place to chill out while you wait for your flight. There are remarkable views of the runway as well as unlimited WiFi, board games, TV and even special kids packs to keep the youngsters entertained.  It's open from 4am to 9pm and you can book yourself into Stansted airport lounge through us.
Special assistance at Stansted Airport
Do you need assistance at the airport? If so you need to let the airline know at least 48 hours before you fly, both for the outbound and inbound journey. It's advised you turn up at the Special Assistance desk, ideally at least 2 hours before your flight time and no later than an hour before departure.
Sustainable development
Stansted plans to attract more airlines and new long haul routes, including more flights to and from the Middle East and USA.
They're looking at ways to maximise their single runway and improve access links, all of which will be done bearing the latest environmental rules, regulations, laws and recommendations in mind. They believe it's entirely possible to handle 40-45 million passengers with just one runway, without making serious infrastructure changes. And they feel they can do it within current environmental limits, in a sustainable and cost-effective way.
The terminal is part-way through an impressive £80m transformation, which is in turn part of a massive £260m investment project. Phase one of the new international departure lounge was officially opened in late September 2014.
18 random facts about Stansted Airport
Stansted is London's newest passenger airport
It's Ryanair's biggest base, from where they fly to more than 100 low cost destinations
At the moment Stansted caters for around 17.5 million passengers a year
The airport is home to 12 airlines
It's the third busiest London airport, Britain's fourth busiest… and all with just one runway!
Stansted contributes an impressive £400m a year to the economy
It employs a total of 10,200 people on and off the premises
The airport sits on the site of a Roman burial ground, more than 2000 years old
The original runway was built by the US Air Force in 1942
In 1944, on D-Day, 600 British war planes flew from Stansted, at the time a designated heavy bomber airfield and operational bomber base
After the war, Stansted used by the Air Ministry's 263 Maintenance Unit, RAF, for storage
Between 1946 and  1947, Stansted was briefly used to house German prisoners
The BAA took over in 1966, and the airport has been steadily growing ever since
Long-haul scheduled services kicked off in the early '90s
In May 2010 BAA withdrew plans to build a second runway
Stansted has seen more hijack incidents than you might expect for its size: 1982, 1999, 2000, 2003 and twice in 2013, apparently because of its design and layout. The British government has nominated it as the preferred airport for hijacked planes to land
Stansted's 1996 control tower used to be the highest in the UK, and is still amongst the country's tallest
Since MAG took over, the airport has reported a 66% reduction in their carbon footprint
Here's a useful video guide to Stansted airport.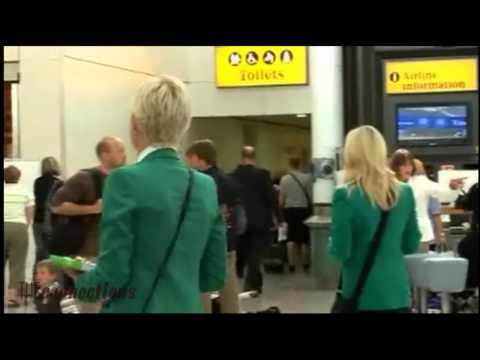 Fascinated by airport facts?
If you can't get enough facts about airports, you're not alone. They're fascinating places. Airport geeks unite! Here's a link to the airport's Wikipedia page.
Tags:
car parking at Stansted airport
,
stansted airport lounge
,
Stansted car parking
,
Stansted facilities
,
Stansted facts
,
Stansted hotels