UK Election: What Does it Mean for Airport Expansion?
Written by Kate Goldstone
The election is almost upon us. If the pundits are right it's set to be the most unpredictable general election for a generation, and the confusing mix 'n' match of speculation, rhetoric and counter claims is about to come to a head. So what effect will the elected party or parties have on the ongoing and highly controversial issue of airport expansion in the UK?
What does the Department for Transport say about expanding airports?
The DoT forecasts annual passenger numbers will reach 445 million by 2050, almost double the 2011 figure. But they also feel a maturing market and an end to the long trend for cheap air fares could mean growth actually slows to 1 – 3% a year compared to the past four decades' dramatic 5% annual rise.
They also think the bulk of increased demand will come from London and the south east of England, where hubs will be under a lot of pressure by 2030. Heathrow airport is allegedly already operating at 98% capacity (or is it? More on the subject later), with regular delays and cancellations in bad weather. And many people who disagree with an extra runway at Heathrow think the nation could relieve the pressure by making more intelligent use of its existing airport capacity.
David Metz, a former chief scientist at the Department for Transport, insists there's no way to accurately predict demand. He says London's public transport infrastructure has already benefited from seriously limited road capacity, and believes limiting new runway capacity might force the UK's aviation industry to get creative about meeting a big hike in demand, assuming one ever arises.
Unanswered environmental questions
Since almost everyone who matters now acknowledges that climate change is human-driven and is already beginning to bite, answers to the environmental questions behind extra capacity for air travel are still absolutely vital for the decision making process.
The Aviation Environment Federation says a full environmental analysis, promised by the the Airports Commission, still isn't finished and won't be ready in time for the election. Local air quality modelling hasn't been completed and there are still a lot of unknowns around the impact on the UK's commitment to reduce greenhouse gas emissions 80% by 2050.
What about the political side of the airport expansion debate?
What about the political side of the debate? We thought it'd be interesting to take a look at the five major parties' views on expanding British airports to cope with the predicted increase in demand.
What if we vote in another hung parliament?
The financial giant KPMG believes expansion plans at Heathrow and Gatwick airports could be derailed if we end up with another coalition government. They warned recently that the report by the Davies Commission into expanding airport capacity in the south east could die a death if any 'minor' party gets to hold the all-important balance of power, with consensus unlikely. On the other hand it's nothing new, since there has been absolutely no consensus so far anyway.
The final official recommendation is due this summer, taking into account 3 options: a new runway at Gatwick airport, a third runway at Heathrow airport or an extension of the exiting northern runway at Heathrow. Whatever the final decision turns out to be, we can probably expect years of protests, delays and changes of mind, as local people fight their corner against more noise, more pollution and more disruption.
The Conservative party's view of the future of air travel
In 2010 David Cameron announced, "No ifs, no buts, there'll be no third runway at Heathrow." But in summer 2015, the UK's Airports Commission is set to either recommend a new runway at Heathrow, one at Gatwick or an extension of Heathrow's northern runway at Heathrow. Contrary to his promises, a new Heathrow runway is still very much on the cards. Might we see a serious political U-turn if he takes power again?
Analysis reveals UK demand for business flights has been steadily declining for almost ten years. Another runway at Heathrow would have a big impact on air quality and noise pollution in West London, affecting roads and railways far an wide. And the airport already subjects more people to unhealthy levels of noise pollution than any other airport, anywhere, according to Zac Goldsmith, Richmond Park & North Kingston's current Conservative MP. It looks like mixed messages from the Tories.
The Lib Dems' attitude to airport expansion
In October 2014 Liberal Democrat members defied attempts by their leaders to change the party's policy of "no net increase in runways across the UK" and also refused to give in to demands to give party members a choice to support a new runway at Gatwick. It looks as though the Lib Dems have a green hat on as far as airport expansion is concerned, with grass roots members continuing to refuse support for expansion.
What the Labour party thinks about the future of air travel
Ed Miliband publicly opposed airport expansion when he was Environment Secretary, and did the same during his bid for party leadership. Having scoured the internet for Labour's current views it's clear they, like most of the other political parties, are unwilling to make airport expansion into an election issue. On the other hand the party has promised to make a quick decision about expanding airport capacity in London if it takes power.
UKIP's views about expanding Britain's airports
UKIP's Manifesto clearly states the party wants to, "campaign to re-open Manston airport to address the lack of airport capacity in the South East". With no mention of any other airport, we can only assume they reject plans for expansion at Heathrow and Gatwick.
The Green party's take on air travel
The Green Party makes things reasonably clear. They "don't want to see any new runways across the south east", maintaining the same position they have always taken.
The Greens feel the debate has had the wrong focus so far. Instead of looking at where to expand, they believe it makes more sense to decide, first, whether expansion really is necessary, full top. And they don't think the arguments stack up. They believe Britain does not have an air travel capacity crisis. In fact, according to them, every airport in Britain except Heathrow is currently underused. Which, if true, calls a whole host of other statistics justifying expansion into question. Who can we believe?
At the moment 90% of the most popular flights from Heathrow are short haul, easily replaceable by cheaper, cleaner rail travel. Because trains generate ten times less pollution than planes, it makes environmental sense.
More interesting still, recent research by the Aviation Environment Federation reveals that giving the south east a new runway would mean we overshoot the nation's CO2 emissions target, even if every regional airport in the country was restricted in an effort to keep things under control. Plus, it appears the frequent claims that airport expansion creates thousands of new jobs are simply not reliable.
The big aviation scandal
Did you realise that while EU businesses pay 48 cents in tax per litre of fuel whenever they fill up their vehicles, EU-based commercial airlines don't pay a single penny in fuel tax? The exemptions add up to a shameful 43 billion Euros every year.
In Britain 15% of us account for 70% of flights. The more affluent you are, the more often you fly. In 2013, 55% of us didn't fly at all. So who, exactly, is all this frantic expansion planning meant to benefit? It clearly doesn't benefit local people, the environment or the EU taxpayer, and the reasoning behind it seems to be pretty suspect in many ways.
Quite a few commentators believe airport expansion could finally be killed off for good by this election. If, indeed, we don't need the extra capacity, that can only be a good thing. As Wikipedia says:
The environmental impact of aviation occurs because aircraft engines emit heat, noise, particulates and gases which contribute to climate change and global dimming. Despite emission reductions from automobiles and more fuel-efficient and less polluting turbofan and turboprop engines, the rapid growth of air travel in recent years contributes to an increase in total pollution attributable to aviation. In the European Union, greenhouse gas emissions from aviation increased by 87% between 1990 and 2006.
There is an ongoing debate about possible taxation of air travel and the inclusion of aviation in an emissions trading scheme, with a view to ensuring that the total external costs of aviation are taken into account.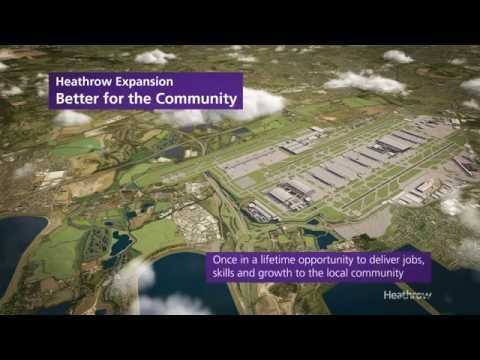 What's your opinion?
Do you welcome airport expansion plans or do you think it's all smoke and mirrors. We'd love to know how you feel about this long-running and spectacularly contentious issue.