How to get to London Airports: The Big Four
Written by Kate Goldstone
Even though there are numerous regional airports to choose from these days, you might still find yourself heading for one of the major London airports to kick off your holiday or business trip.
Getting to and from London's Big Four Airports
You're flying from one of London's big four airports. Is it best to leave your car at home and find alternative transport? Or is a car your best bet? How to get to London airports quickly, cheaply and efficiently? We thought it'd be useful to take a look at the fares and journey times involved in getting to and from Gatwick, Heathrow, Stansted and Luton.
Heathrow Airport – About the Heathrow Express Train
Some people think the Heathrow Express train service is far too expensive. A single fare from Paddington costs over £20 and a return ticket around £34. At roughly £1.40 a mile over its 15 mile length, it's one of Britain's most expensive train journeys. But while it's expensive on the face of it, you don't face the risk of traffic jams and other delays on the roads.
While you occasionally get a delay on the railways, it's much less common than traffic jams. If it's absolutely crucial to get there in good time and catch your flight, the Express service might be your best bet.
Ordinary Train Services to Heathrow
On the other hand the ordinary, everyday service from Paddington only takes eleven minutes longer but costs just under a tenner for a single ticket. The tube is also cheaper than the Heathrow Express, taking around 50 minutes on the Piccadilly Line and costing just £6 or so if you own an Oyster card, just over £10 without an Oyster card. Apart from the low cost it's also more reliable than road transport, with less risk of delays.
Catch the Bus or Coach to Heathrow Airport
National Express is another bargain-basement solution but like taking your car, it is equally prone to delays on the road. It costs just £12 return from Victoria Coach Station to Heathrow, and it takes less than an hour… as long as there aren't any crashes, road closures or jams. If you decide to make the journey on local buses it'll take a lot longer because of the number of stops they make and the circuitous routes they take.
About the Gatwick Express Train Service
The Gatwick Express, which runs from London Victoria train station, costs just under £18 for a single and just over £31 for a return ticket. Like the Heathrow Express it's seriously fast, stopping nowhere along the way. It's a bit cheaper mile for mile than the Heathrow Express, too.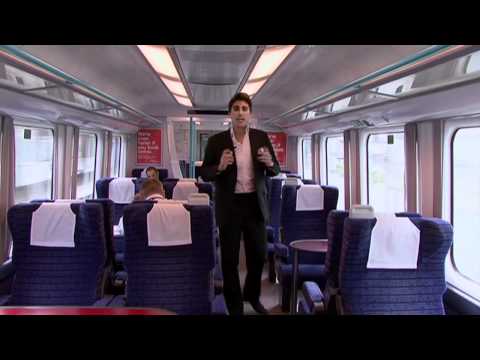 Ordinary Trains to Gatwick
The ordinary, everyday National Rail train service from Victoria, which is run by Southern Railways, and the service from London Bridge, run by First Capital Connect, cost £10 for a single ticket and £19 return. It only takes six minutes longer than the Gatwick Express from Victoria and just 60 seconds longer if you get on at London Bridge.
Central London to Gatwick Airport by Bus
If you pick the right time to travel, you can get from Earl's Court to Gatwick by EasyBus for as little as four quid. Wow!
Getting to Stansted Airport
The Stansted Express train service takes you from either London's Liverpool Street or Tottenham Hale to the airport, with fares from just £16 when you book 30 days or more in advance. But if you book later the price can double.
You could use the Greater Anglia rail service, the only one to link with Stansted, or travel from central London by coach with EasyBus. If you're lucky you might be able to pick up a return EasyBus fare from central London's Baker Street for just £4.
Getting to Luton Airport
While Stansted is the capital's fourth busiest airport, it doesn't have its own Express train service like the other three. You can travel by train on either First Capital Connect or East Midlands trains, both of which depart from St Pancras and cost about £26 return. There's a bus connection at the other end, running from Luton Airport Parkway station to the airport itself.
EasyBus Delivers the Best Bargains
EasyBus steps in again with remarkably low fares, but bear in mind buses are prone to the same road delays as cars, which means you're taking a risk. If EasyBus dings your bell you can catch one from London's Baker Street, with return fares from just four quid whatever airline you're flying with. You don't have to fly with easyJet to take advantage of the service.
What about a Minicab?
Just like private cars, minicabs can suffer delays on the roads. But when you book far enough in advance you can get some really great bargains. Most minicab firms have special airport rates for the big four London airports, and they're often fixed so you don't have to worry about the fare mounting up.
From central London to Heathrow, for example, can cost as little as £26. If four of you are travelling together, that's only £6.50 each. If you're lucky enough to live in a less expensive area of Britain, cabs can cost even less.
The ultimate bargain – Getting a lift from a family or friends?
Say there are four of you. If you get a lift in and back from a generous friend or relative you can split the petrol cost between you, avoid airport parking fees altogether and get picked up by someone friendly and familiar after your holiday or business trip. You might even save enough cash to give them a tip for their trouble!
Just bear in mind the same rules apply whatever type of road transport you take: I there's a jam or a delay you'll get stuck in it, whereas there's much less risk of delays on the rail network.
Getting the Timing Right
If you're driving to the airport you'd be silly not to leave enough spare time for potential delays. The same goes if you're travelling by public transport. Never book a ticket that only leaves you with a few minutes' grace. Book yourself on a service that leaves you a decent amount of spare time if something goes wrong, so you don't miss your flight.
If you're travelling by train, check whether the train actually takes you to the airport itself or leaves you to catch a bus transfer service to the airport. All Gatwick trains, for example, drop you off at the airport itself, with only a two minute escalator journey onto the concourse.
The Advantages and Disadvantages of Taking Your Car to the Airport
Advantages:
Airport parking is cheap, secure and convenient
You are in full control of your journey from beginning to end
You don't have to drag heavy luggage around train stations and bus concourses
There's a wide range of airport parking options to choose from
You can usually pre-book your parking space so it costs less
You can choose valet parking and come home to a sparkling clean car
You can often opt for special business parking deals…
… or choose a special meet & greet or return-greet service
Disadvantages:
You risk being caught in delays on the roads
If you have jet lag, you'll have to drive home even if you feel too tired to drive safely
Fuel costs a fortune, and the further you have to travel to the airport the more it costs
You might break down
You have to pay for airport parking
What's Your Best Tip for Travelling to and from London's Airports?
What are your top tips for getting to and from Gatwick, Luton, Stansted or Heathrow quickly, efficiently, cheaply and painlessly? We'd love to share them.
Tags:
airport parking
,
Gatwick Airport
,
gatwick express
,
heathrow airport
,
heathrow buses
,
heathrow trains
,
Luton airport
,
stansted airport