top tips for Manchester Airport parking

With 17 Manchester Airport parking options on offer, it may seem a little overwhelming to decide which car park best suits your needs, so here's some tips to make it easier...
Manchester's on-airport car parks are located within the airport grounds and are a good all round time saving option less than a mile from the main terminal buildings.
Off-airport car parks are cracking value options for those with a little extra time on their hands. From budget parking to the award-winning APH car park these are great alternatives for car parking near Manchester Airport.
Check your terminal. It will save you time and ensure there are no last minute rushes. Terminal 3 is quite a walk from Terminals 1 and 2. As a safe bet choose a car park that serves all three terminals.
Check the vehicle restrictions. If you've got a larger-sized vehicle or are pulling a trailer, be sure to read any vehicle restrictions on the car park information pages. Some may allow you to book two parking spaces, whilst others may not allow you in at all.
Customer reviews. Once you've determined which car park meets your requirements, read what our previous customers have to say about each one. The reviews are genuine, honest and we show both good and bad experiences to give you a balanced picture.

So far we've gathered

2768

Manchester Airport parking

reviews from our previous customers and with an average rating of we're confident that you'll have a top-notch parking experience. The good news doesn't stop there. We search the web every day to find the cheapest parking at Manchester Airport, and today's no exception. Book the cheapest car park available within the next week and you could pay as little as:

£2.33 - a day, £22.99 - 1 week, £35.00 - 2 weeks

- now that's a bargain!
blue badge parking
Here's a handy list of Manchester Airport parking services, located on-airport, that offer facilities for Blue badge travellers.

Multi-storey Parking - Disabled parking bays are located next to the lifts.
Premier Park - Transfer buses are wheelchair-accessible. If additional assistance is needed, please request this by calling 0161 489 8582 at least 7 days in advance of travel.
Short Term Parking - Disabled parking bays are located next to the lifts.
The off-airport car parks we offer also feature a range of facilities, which can be viewed by simply clicking the car park's name.
Pick-up and drop-off car parking at Manchester Airport
There is a strict "no waiting" policy on all roads around the terminal buildings at Manchester Airport. All pick-ups must take place at the designated car park for each terminal. There are height restrictions of 2.0 metres (6 feet 6 inches) in force on some of the terminal approach routes, overheight vehicles are therefore advised to follow the signs to the short stay surface car park, adjacent to the multi-storey car park.
Terminal 1 Pick-up should take place in the surface car park located outside arrivals and adjacent to the multi-storey car park. Drop-offs are advised to follow the signs on route.
Terminals 2 and 3 Pick-up's are directed to the ground level of the multi-storey car park. Drop-offs are advised to follow the signage on route.
Details may be subject to change by the Manchester Airport Authority without notice.
Short stay Manchester Airport parking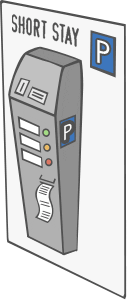 If you're one of those nice people who likes to stay for a while to wave off friends and family, you can just turn up and park for a couple of hours at the multi-storey short stay car parks. Although it's always cheaper to pre-book Manchester Airport parking, this option is perfect for stays of just a few hours.
Situated next to the terminal buildings, each car park offers covered walk-way access just a few minutes walk from check-in. Short stay car parking at Manchester Airport provides the perfect mix of speed and convenience with 'Park Mark' Accredited security for complete peace-of-mind.
Short Stay parking rates at Manchester Airport
Up to 30 minutes - £2.00
Up to 1 hour - £3.60
Up to 2 hours - £5.80
Up to 3 hours - £8.00
Up to 4 hours - £12.00
Up to 6 hours - £18.00
Up to 16 hours - £24.00
Up to 24 hours - £27.00
Each 24 hrs thereafter - £27.00
Parking Prices are displayed at all car park entrances and may be subject to change without advance notice.
petrol stations
Don't run out of steam, or petrol for that matter - top your car up at these local garages:
Petrol Stations

BP Service Station
Palma Ave
Manchester Airport
M90 4ZY

Styal Road Service Station
Styal Road
Manchester
M22 5WB
That's it. Detailed information, clearly presented and one more reason why smart people gosimply.
Winner of World's Best Airport and the Travel Weekly Globe Awards' UK Best Airport last year - pretty impressive stuff we think. Just as impressive is the veritable treasure trove of Manchester Airport parking options. To make things a little simpler we've grouped them into park and ride, and meet and greet parking.
In addition to Manchester Airport parking we also offer Liverpool Airport Parking.
A kindly, fully insured valet driver meets you at the terminal - allowing you to walk straight in with your luggage. Oh, and they'll be waiting there on your return too. Handy!
Terminals are clearly signposted and are colour coded for your convenience:
For Terminal 1 follow the green T1 signs
For Terminal 2 follow the pink T2 signs
For Terminal 3 follow the purple T3 signs
There is simply no quicker way to get into and out of the airport than Meet and Greet parking at Manchester Airport.